---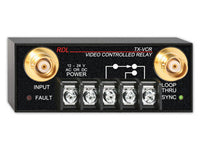 Sale
The TX-VCR is the ideal choice in installations where a control signal is needed based on the absence or presence of valid video signals. The unique power supply input allows the TX-VCR to be powered from a wide variety of existing ac or dc power sources
The TX-VCR has one video INPUT and a LOOP OUT video jack. The detection circuit bridges a 1V video line. The TX-VCR may be inserted in a video line with the loop-through video output feeding a terminated load. It may alternatively be installed at the end of a video line by installing a 75 Ω terminator to the LOOP OUT video jack. The terminator is supplied with the TX-VCR.
Video detection is based on valid sync signals. The TX-VCR responds to valid NTSC or PAL sync while ignoring 50 Hz and 60 Hz hum and related induction artifacts. The TX-VCR is able to detect signals as weak as 0.5 V p-p. When a valid signal is detected, the relay contacts close. Both a normally-open and normally-closed contact are provided, permitting the module to be connected as a video-present detector or as a video-loss detector. The front-panel SYNC LED lights when valid video is being detected.
If a local or remote loss of video audible alert is needed, the TX-VCR may be wired to an RDL BZR.