---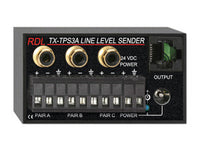 Sale
The TX-TPS3A is a three-pair audio sending module compatible with RDL Format-A twisted pair products. Three line-level sources may be connected to the module, each using either the -10 dBV unbalanced RCA phono jack or the +4 dBu balanced detachable terminal block. Studio-quality buffer amplifiers feed the RJ45 OUTPUT at the correct operating level.
The TX-TPS3A feeds all three signal pairs in the twisted pair cable. No other sending modules may be connected on the same cable with this module.
The TX-TPS3A may be powered directly from a 24 Vdc power supply using either the power jack or the detachable terminal block. Local power connected to the module is also fed to all modules connected to the OUTPUT RJ45 jack. The TX-TPS3A may be remotely powered through the twisted pair cable from any other module, signal distributor or RDL power inserter connected to the same twisted pair cable. Module power is indicated by a front-panel LED.