---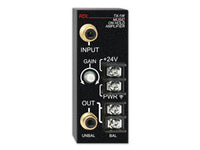 Sale
The TX-1W is the ideal choice in on-site installations where the central telephone switching unit needs to be fed with music, voice or combined music/voice signals.
There is a wide variety of telephone instruments in use. When a caller is placed on hold, the audio quality perceived is affected by the caller's own telephone, as well as the telephone lines, central switch and on-site equipment. Due to these variations, conventional audio amplifiers used as music-on-hold drivers frequently produce annoying artifacts at the caller's earpiece. Attempts to reduce listener fatigue through high-frequency rolloff alone tend to produce a muffled, tired sound.
The TX-1W features a spectral response specifically characterized to match the broadest variations in telephone audio distribution, producing a lively, crisp, interesting sound without the annoying resonances and distortions prone to creating listener fatigue.