---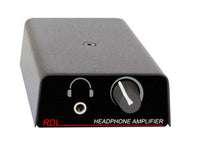 Sale
The TP-HA1A is a two pair receiver and audio headphone amplifier compatible with RDL Format A twisted pair products. Each TP-HA1A receives stereo audio and 24 Vdc power through a rear-panel RJ45 jack fed from a Format-A sender. The left and right audio signals received on pairs B and C of the twisted pair cable are amplified and fed to the left and right channels of the output 3.5 mm Mini-jack.
The front panel provides the headphone output jack and a single-turn user volume control. There are no illuminated indicators that could be distracting in dark locations, such as a hotel room. The audio input circuits feature very high common mode rejection and a high quality stereo headphone amplifier for superior audio fidelity and low-noise performance.
The TP-HA1A is ideally suited to guest room installations with bedside and restroom listening stations. The input is fully compatible with all RDL Format-A senders.
The TP-HA1A is equipped with two Format-A RJ45 jacks. Either jack may be used as the input. The other RJ45 may be used to connect an additional TP-HA1A or other Format-A receiver.
Installation is simple and economical. Standard twisted pair cable is used to connect a Format A sender to the TP HA1A. The base plate of the TP HA1A has cutouts that allow installers to pre-wire the twisted pair cable with RJ45 connectors attached. The finished twisted pair cable/connector can be fed through the base plate prior to mounting. The base plate is mounted with two screws, the twisted pair cable is plugged in, then the cover plate is attached with one screw.
RDL FORMAT-A features superior audio performance that rivals or exceeds shielded wiring. Design simplicity, ease of installation, unsurpassed flexibility, automatic fused power, exceptional hum rejection, low noise, and low distortion provide designers and installers the optimum choice in economical twisted pair products.