---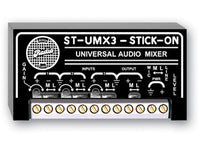 Sale
The ST-UMX3 is a three-channel audio mixer for combining mic-level or line-level signals to a single output. A MIC/LINE switch is provided for each input. A separate MIC/ LINE switch selects the output level. Each input features a separate preamplifier circuit, which isolates it from the other inputs. An audio taper single turn gain adjustment is provided for each of the three input preamps. Signals from the three preamps are actively summed and fed to the output amplifier which includes an RDL® dual-LED VU meter.
Each input level is set while observing the LED output level meter. The dual-LED output meter follows standard VU ballistics. The intensity of the green LED progresses from minimum at -11 dBu to full intensity at +4 dBu.
The flexibility of switching each input and the output between MIC or LINE allows installers to address a wide variety of mixing solutions with only one product type.