---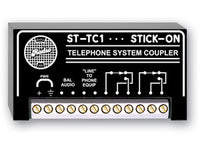 Sale
The ST-TC1 is intended to be connected to an on-site telephone system switching unit KSU. It is NOT intended to be connected directly to a telephone CO line. Connections from the ST-TC1 go into the telephone switching unit as if the ST-TC1 was an incoming phone line.
When the KSU seizes the line to the ST-TC1, a relay contact closure is provided which can be used to control a variety of equipment, such as a paging system or radio system. The closure is maintained as long as the line is seized. A 600 Ω transformer-isolated audio feed is available for audio input to or output from the telephone switching unit. The ST-TC1 will pass DTMF audio from a telephone keypad or other DTMF generating device.
The ST-TC1 may be utilized to add paging zones or radio system interface to a telephone system. When any instrument in the telephone system seizes the line associated with the ST-TC1, the relay closes to activate the radio or paging function, and the audio spoken into the handset is broadcast. The ST-TC1 can not be connected to a phone line that has ringer voltage present.
The ST-TC1 can be used in conjunction with RDL's® ST-VOX1 modules to provide two-way communication. The ST-VOX1 will provide the necessary push-to-talk function to key the two-way communications systems.