---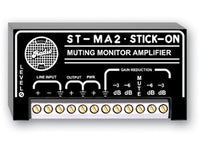 Sale
The ST-MA2 is a compact audio monitor amplifier with control inputs to mute or reduce the gain of its output. This module may be used in conjunction with other RDL® modules to configure automatic mixing systems or may be used alone as a single-speaker monitor amplifier. The ST-MA2 is typically used to drive a small tabletop or overhead monitor speaker in a conference room, boardroom, courtroom, public forum panel or similar installation. The ST-MA2 is ideally suited for use in automatic mixing systems due to its control inputs.
The line-level input may be wired balanced or unbalanced. The audio output will drive standard speakers from 4 to 45 Ω. Normal gain is preset by means of a trimmer on the module.
For tabletop installations, use the ST-MA2 with the WDG1 and RU-SP1.