---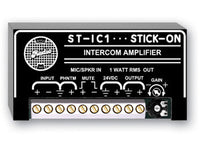 Sale
The ST-IC1 is the ideal choice where an intercom system is to be installed, or where an amplifier is needed to bring a mic level up to a 1 W speaker level with optional muting capability.
The ST-IC1 has one input, one output and two muting control terminals.
The input accepts a dynamic mic, a condenser mic (a phantom supply input terminal is provided to power condenser mics), an 8 Ω speaker or a 45 Ω speaker. The gain range of the module is sufficient to accommodate this wide variety of source levels.
The output is ground-referenced, and drives more than 1 watt RMS into an 8 Ω load. The output circuit can be connected to any load impedance of 4 Ω or greater.