---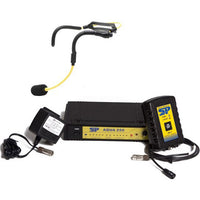 Sale
Overview
Put it on and jump into the pool - this system will work.

The Aqua 20/20 System is an extremely rugged, easy to use VHF

microphone

system. It is designed for use in dance and fitness instruction, water aerobics, theme park and amusement games, or anywhere there is a need for a sweat proof or waterproof system. In addition to obvious use for aquatics, the Aqua20/20 is also a favorite of spin instructors - waterproof means sweatproof, too.

The Aqua 808 Submersible Body Pack Transmitter features a simple on-button on/off

interface

. The power and battery indicators are easy to read both indoors or out. The case is made with a reinforced ABS plastic that is virtually indestructible. The Aqua 808 has a speciality coating on the electronic components that adds superior waterproofing to the already rugged submersible system.

The industry standard SP-H2O waterproof headworn

microphone

is designed for the active professional - lightweight, rugged and comfortable, it's perfect for demanding environments. The unique Special Projects detachable cable allows the user to quickly and easily replace the cable if need be, saving money and downtime.

Includes

neoprene

transmitter belt.

Designed for

wet

and demanding environments. The body pack transmitter and

microphone

are completely submersible allowing easy instruction from the deck or in the pool. Professionals in fitness facilities, aquatic performance and waterparks nationwide depend on Special Projects to perform where other systems just will not go. We perform, so you can.
Specifications

Frequency

: VHF, (GG) 200.00 - 204.500, (HG) 205.10 - 209.600

Switchable Frequencies

: 16 (receiver only - transmitter freq. is pre-set prior to shipping)

Reception Method

: True

diversity

to minimize dropouts

Audio

Outputs:

Unbalanced

1/4 inch line ,

Balanced

XLR

mic

Power and

Antenna

Distribution: available.