---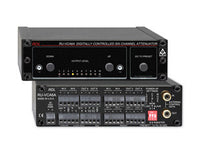 Sale
The RU-VCA6A is a full-featured studio-quality six-channel audio attenuator module for local and/or remote control of balanced or unbalanced line-level sources. The RU-VCA6A has six audio channels for level control of surround sound (5.1) or six individual analog audio channels. Each module can be remote controlled from a single or multiple locations. Rear-panel terminals provide flexible control options using a variety of RDL remote controls or OEM equipment.
Audio levels are controlled in 0.5 dB steps using noiseless zero-crossing digital attenuators for optimum reliability, precise tracking and long-term click-free service. Exceptional wide-band low-noise performance makes the RU VCA6A suited to level adjustment in the most demanding applications. Rear-panel inputs and outputs may each be wired balanced or unbalanced.
The RU-VCA6A powers up in one of two operating modes set by a rear-panel switch.
MOM (momentary) Mode
In the MOM (momentary) mode, audio level is controlled by momentary pushbuttons or pulses. Remote terminals and front-panel pushbuttons are provided for up and down ramping control. If either button is held in, the audio will ramp automatically. If a button is pulsed (UP and DOWN ramps is individually adjustable on the front panel. Pushing remote UP and DOWN buttons simultaneously, or pressing the front-panel GO TO PRESET button, returns the audio to a preset level. The preset level is stored by adjusting the desired level using the UP and DOWN buttons, then pressing and holding the front-panel PRESET button for 3 seconds. A rear-panel switch sets the audio power-up level to either the preset level or the last level setting used. Multiple remote control locations are possible in the MOM mode. External control pulses may be either of positive polarity or pulled-to-ground (open-collector).
0 to 10 VDC Mode
In the 0 to 10 VDC mode the preset function is disabled and the audio level is controlled by a remote 10 kΩ linear taper pot or by 0 to 10 Vdc. A single remote control location is possible using a remote 10 kΩ pot.
In both operating modes, two separate 0 to 10 Vdc outputs are provided. The linear RAMP output drives the level display on RDL remote controls; the EQ RAMP output is used to control an automatic RDL Loudness Equalizer (see ST LEQ1). A front-panel 10-LED string display indicates the relative audio level. Control expansion is possible using the EXTERNAL CONTROL DATA jacks. One module can be set as a MASTER module to control the level of one or more additional RU-VCA2A or RU VCA6A modules set to the SLAVE mode.
Use the RU-VCA6A individually, or combine it with other RDL products as part of a complete system.