---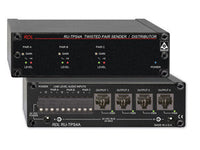 Sale
The RU-TPS4A is a four output audio sender, signal and power distributor module compatible with RDL Format-A twisted pair products. Three line-level sources may be connected to the module using the +4 dBu balanced detachable terminal block. A bank of studio-quality buffer amplifiers feed the three pairs of the four rear-panel RJ45 OUTPUT jacks at the correct operating level.
Three RDL Dual-LED VU meters are provided on the front panel of the RU-TPS4A. One meter monitors the audio level on each of the three FORMAT-A audio pairs. A GAIN trimmer adjacent to each meter allows front-panel adjustment of each audio input for optimum operating level.
The RU-TPS4A is constructed in the durable MAX RACK-UP chassis which facilitates mounting three distributors in a single rack unit. Installations requiring more than four distributed outputs are easily accommodated by mounting one or more RU-TPDA Distributors adjacent to the RU-TPS4A. A wide variety of mounting accessories are available in the RDL RACK-UP series. A power bus in each RU-TPS4A allows power to enter one module at either side of the rack. The included power jumper cable provides a simple method of interconnecting the RU-TPS4A to an adjacent distributor module, so multiple modules can be operated from a single power supply.
The RU-TPS4A is powered directly from a 24 Vdc power supply using either one of the power jacks or the detachable terminal block. Local power connected to the module is also fed to all modules connected to the OUTPUT RJ45 jacks. The power feeding each OUTPUT jack is separately protected by an automatically resetting fuse. A power LED is associated with each OUTPUT jack, facilitating identification of wiring faults. Module power is indicated by a front-panel LED.