---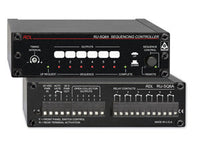 Sale
The RU-SQ6A is the ideal choice in installations where sequential ON and sequential OFF functions are desired. Control and output connections are made on the rear panel through clearly identified detachable terminal blocks.
Two types of outputs are provided for each of the 6 sequential steps. One type is an open collector capable of switching loads of 50mA. The other type is an SPST dry contact closure which may be used to control a variety of equipment. A single-turn front-panel TIMING INTERVAL control adjusts the time delay between channels from 1 to 10 seconds. Front-panel LEDs show when each output channel turns on and off. An internal microcontroller insures reliable, accurate timing.
The up or down sequence is user-controlled by a front-panel pushbutton switch unless the module is set for remote operation. A rear-panel switch set by the installer selects either front-panel or remote control activation. LEDs indicate whether the front-panel SEQUENCE CONTROL switch or the remote terminals are active. Grounding the rear-panel ACTIVATE terminals or turning on the front-panel SEQUENCE CONTROL switch causes an UP REQUEST that starts the RU SQ6A outputs to turn on sequentially. The outputs remain active until the UP REQUEST is cancelled by turning off the front-panel or remote control switch, causing the outputs to turn off in reverse sequence. If the ACTIVATE terminal is permanently grounded with the module set for remote control, the RU-SQ6A outputs will turn on sequentially when power is applied to the module; all outputs will turn off simultaneously when power is removed from the RU-SQ6A. The UP REQUEST LED is illuminated when an UP sequence is requested. When the sequence is complete, the COMPLETE LED indicates the Sure-Lok™ supervisory circuit is actively latching the outputs active until the user de-activates the sequence.