---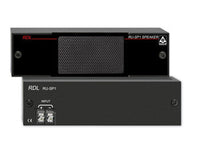 Sale
The RU-SP1 is the ideal choice in many applications where audio signals need to be monitored using amplified signals up to 2 W RMS. The RU-SP1 provides crisp, highly intelligible monitoring of voice and music sources while rolling off the low frequencies below the operating range of the speaker. The unusually compact size permits mounting of the RU-SP1 in many RDL RACK-UP series mounting accessories, such as the RU-RA3 Rack Adapter, RU-RA3A Rack Adapter, RC-1U Universal Rack Chassis, RU-BR1 Under Counter Mounting Bracket, UC-1 or UC-2 enclosures or WDG1 Table Top Wedge Enclosure.
The speaker is permanently mounted in a molded enclosure so no additional acoustic baffling is needed behind the speaker. An external power amplifier connects to the speaker through a full-size barrier block on the rear of the module. The RU-SP1 input impedance is 8 Ω.
The RU-SP1 may be used in stereo monitoring applications by mounting a speaker module in each side of an RDL RACK-UP series chassis or rack adapter, thereby leaving the center bay of the chassis free for another RACK-UP series module. The WDG1 table top enclosure mounts the RU-SP1 at a convenient table top listening angle, and is used in conferencing and other table top monitoring installations. (Note: The WDG1 also provides mounting for two electronic modules, such as a gated speech preamplifier or various power amplifier modules.)
The RU-SP1's compact size and high efficiency make it the ideal choice in rack or table top mounted audio monitoring. Combine it with other RDL products as part of a complete audio/video system.