---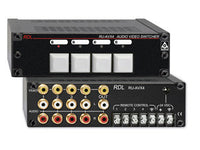 Sale
The RU-AVX4 is the ideal choice in installations where a single set of audio/video signals needs to be selected from up to 4 consumer format (phono jack) video and audio sources. Video signal quality, audio performance and pushbutton durability are equal to that found in professional switchers. Audio and video source selection uses all solid-state switching. High quality audio and video line driver amplifiers feed the module's output.
The RU-AVX4 has four separate inputs and a single output on the rear panel. The inputs and output provide one video phono jack and two associated (left and right) audio phono jacks. When power is first applied to the module, input 1 (default) is automatically selected. Four keyboard style long-life pushbuttons on the front panel are used to select one of the inputs at a time. When a button is pushed, the corresponding video and audio input is fed to the output of the RU-AVX4 and any previously selected source is shut off. Only one source may be selected at a time.
The RU-AVX4 rear-panel terminal block provides four connections to remotely control the module. A momentary external closure to ground on an input terminal will select the associated input. Continuous remote closures will select inputs while disabling source selection by the front-panel buttons. An LED indicator above each front-panel button shows which input is selected.