---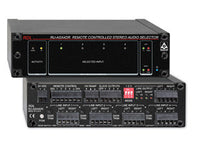 Sale
The RU-ASX4DR is a four channel stereo audio selector with input gain adjustments and output level metering. The module is equipped with an internal stereo VCA for setting the output level. Source selection and level adjustment are by remote control. Each module may be remote controlled from a single or multiple locations. Rear-panel terminals provide flexible control options using a variety of RDL remote controls or OEM equipment. The inputs and output are connected on rear-panel detachable terminal blocks.
Each of the four stereo line level inputs accepts either a balanced or an unbalanced signal. Each input is equipped with a rear panel screwdriver-adjustable input gain trimmer. Input signal levels between -15 dBV and +8 dBu may be set to the proper operating level as indicated by a stereo dual-LED VU meter. This assures ample headroom at all normal operating levels. The module is equipped with two identical dual-led VU meters, one on the front panel, the other on the rear panel. The maximum input level is +25 dBu.
The RU-ASX4DR was designed for absolute silent switching of audio signals using only solid-state switching circuitry. Each of the VU-meters, left and right, is calibrated to read +4 dBu feeding the corresponding balanced output.
The audio output level is controlled by a remote 10 kΩ linear taper pot or by 0 to 10 Vdc. A single remote control location is possible using a remote 10 kΩ potentiometer. The RU-ASX4DR is compatible with RDL D SERIES-RLC10 rotary remote controls that provide user adjustment at single or multiple locations. Audio levels are controlled in 0.5 dB steps using noiseless zero-crossing digital attenuators for optimum reliability, precise tracking and long-term click-free service. The output is stereo line level. Each output channel may be connected balanced or unbalanced.
Inputs are selected by a sequential remote control such as an RDL D-RCS4, by a momentary remote control such as an RDL D-RC4M or by an external open-collector momentary closure to ground. The RU-ASX4DR may be remote controlled from a single or from multiple locations. When a source is selected, the RU-ASX4DR provides a 25 mA open-collector output to control other equipment or modules. A front-panel LED indicates the selected source. Only one source may be selected at a time. If the momentary input terminal for a selected source is triggered again, all inputs are turned off.
Rear-panel DIP switches are provided to set the VCA activity LEDs for momentary or continuous display, to select the remote control mode (sequential or individual source selection), and upon power-up a return to either a pre-programmed source or to the last source used. The pre-programmed source is stored when the module is installed.
The RU-ASX4DR offers exceptional headroom, very low distortion, excellent crosstalk isolation, wide flat frequency response and extremely low noise with very high common-mode signal rejection. It provides exceptional audio performance for the most critical applications in a professional audio environment.
The RU-ASX4DR operates from 24 Vdc connected through a rear-panel detachable terminal block.