---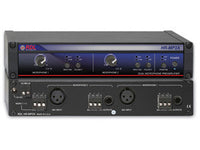 Sale
The HR-MP2A is a dual channel microphone preamplifier with line-level outputs. Each section provides identical rear-panel signal connections and front-panel controls.
Each preamplifier is equipped with a front-panel INPUT PAD switch that allows the operator to attenuate the input signal by 15 dB prior to the preamplifier input stage, increasing the maximum input level from +5 dBu (attenuator out) to greater than +20 dBu. A POLARITY switch provides signal polarity reversal if needed. The GAIN control provides continuous adjustment between 20 dB and 60 dB. A CLIP LED flashes if a signal peak is within 3 dB of clipping. The trigger threshold of the CLIP LED is 17 dB above a normal +4 dBu output.
The HR-MP2A offers exceptional input headroom, wide flat frequency response and extremely low noise with very high common-mode signal rejection. Total harmonic distortion and crosstalk are below the noise floor, allowing the HR-MP2A to be operated as a stereo preamplifier or as two separate mono preamplifiers.
Each preamplifier provides two balanced line-level output formats: Detachable terminal block and ¶¬" TRS. A separate summing amplifier provides a combined mono output on a line-level detachable terminal block. Balanced outputs may be wired unbalanced. The rear panel also provides a detachable terminal block and a power input jack to connect 24 Vdc power.
The HR-MP2A is constructed in a durable half-rack-width shielded metal enclosure for free-standing use or for mounting in an RDL rack adapter, available separately.