---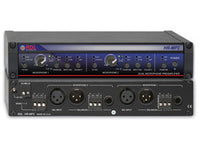 Sale
The HR-MP2 is a dual channel microphone preamplifier with line-level outputs. Each section provides identical rear-panel signal connections and front-panel controls.
Each preamplifier is equipped with a front-panel FILTER switch to enable or disable a 6 dB/octave low-cut filter with a -3 dB cutoff at 80 Hz. Two additional switches on each input select 24 V or 48 V phantom if the master PHANTOM power selector is ON. The INPUT PAD switch allows the operator to attenuate the input signal by 15 dB prior to the preamplifier input stage, increasing the maximum input level from +5 dBu (attenuator out) to greater than +20 dBu. A POLARITY switch provides signal polarity reversal if needed. The GAIN control provides continuous adjustment between 20 dB and 60 dB. An RDL Dual-LED VU meter is provided adjacent to each gain control. The meters are calibrated to indicate +4 dBu at the associated balanced output. A separate CLIP LED flashes if a signal peak is within 3 dB of clipping. The trigger threshold of the CLIP LED is 17 dB above a normal +4 dBu output.
The HR-MP2 offers exceptional input headroom, wide flat frequency response and extremely low noise with very high common-mode signal rejection. Total harmonic distortion and crosstalk are below the noise floor, allowing the HR-MP2 to be operated as a stereo preamplifier or as two separate mono preamplifiers.
Each preamplifier provides three balanced line-level output formats: XLR male, detachable terminal block and ¶¬" TRS. A separate summing amplifier provides a combined mono output on a line-level detachable terminal block. Balanced outputs may be wired unbalanced. The rear panel also provides a detachable terminal block and a power input jack to connect 24 Vdc power.