---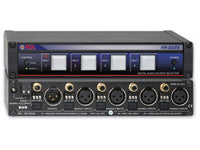 Sale
The HR-DSX4 is the ideal choice in installations requiring high quality source selection between digital audio signals. Solid-state switching is used to select one of four inputs. Each input may be fed through one of three jacks: S/PDIF optical, S/PDIF (or AES-3ID) coaxial or AES/EBU. The output is switch-selectable to provide an AES/EBU, S/PDIF coaxial, S/PDIF optical or AES-3ID output. The switch enables the appropriate output jack and any required electrical and data format conversion. The AES/EBU inputs and output are 110 Ω terminated; the S/PDIF coaxial and AES-3ID signals connect through 75 Ω terminated phono jacks. RDL's proprietary Sure-Lok™ auto recovery supervision monitors possible causes of latch-up and reinitiates signal lock to provide highly stable operation in the variety of conditions encountered in professional environments.
The front panel features four high-reliability, keyboard-style source selection pushbuttons with corresponding LEDs. Upon selecting a source, the LED lights if a valid input is present; otherwise it flashes. If the button for a selected source is pushed again, all inputs are turned off. A front-panel LOCAL/REMOTE switch enables either the front-panel buttons or the rear-panel remote control terminals provided on detachable terminal blocks. In the REMOTE mode, inputs are selected by an external switch or open-collector closure to ground, which may be momentary or continuous. When a source is selected, the HR-DSX4 provides a 50 mA open-collector output to control other equipment or modules.
The HR-DSX4 is powered from 24 Vdc, which may be connected through the detachable terminal block or through the dc power jack. A front-panel power switch is provided.