---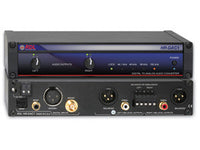 Sale
The HR-DAC1 is the ideal choice in installations requiring high quality analog audio from an AES/EBU, AES-3ID or S/PDIF digital audio source. The HR-DAC1 automatically detects a valid input on any of the four input jacks: S/PDIF optical, S/PDIF coaxial, AES-3ID or AES/EBU. The AES/EBU input is 110 Ω terminated; the S/PDIF coaxial and AES-3ID jacks are 75 Ω terminated. A front-panel LOCK LED indicates the presence of a valid digital audio source without any phase-lock or bit errors. Sample rates from 32 kHz to 192 kHz are supported with front-panel LEDs to indicate standard digital audio rates of 44.1 kHz, 48 kHz, 96 kHz and 192 kHz. Professional operating stability is achieved with RDL's proprietary Sure-Lok™ latch-up auto recovery.
The digital input is converted to stereo audio using high speed delta-sigma conversion, digital filtering and filtered wideband analog drivers. The high performance, low-noise converters are supplemented with digitally controlled analog gating to produce unparalleled performance. The LEFT and RIGHT output levels are individually adjustable using front-panel knobs. A dual-LED VU meter displays the output level of each channel to facilitate level adjustments. Balanced +4 dBu audio outputs are provided on a rear-panel detachable terminal block and on XLR jacks. Unbalanced -10 dBV outputs are provided on phono jacks.
The HR-DAC1 is powered from 24 Vdc, which may be connected through the detachable terminal block or through the dc power jack. A front-panel power switch is provided.