---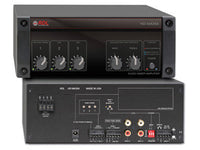 Sale
The HD-MA35A is a three input audio mixer amplifier for systems demanding a broad range of features and high energy efficiency. Two output power amplifier zones are provided, 35 W (Zone 1) and 2 W (Zone 2). The Zone 1 output is driven from a high-efficiency Class D amplifier stage. The Zone 1 amplifier output level may be VCA controlled using various optional RDL remote controls, or by industry standard 0 to 10 Vdc or 0 to 10 kOhm controls. This output provides a constant voltage (25 V, 70 V or 100 V). The Zone 2 amplifier output drives an 8 Ohm speaker and/or 600 Ohm telephone equipment. The HD-MA35A is engineered and manufactured in the U.S.A.
The HD-MA35A features two mixers. The Zone 1 mixer is located on the front-panel providing user level and tone controls for the 35 W amplifier output. The tone controls adjust the equalization at the Zone 1 amplifier output. The Zone 2 mixer on the rear panel provides level trimmers normally set by the installer to provide music-on-hold and/or for background music in a small zone equipped with an 8 Ohm speaker. The Zone 2 section includes a 2 W amplifier and a 600 Ohm transformer-balanced MOH output.
The HD-MA35A has three inputs that are common to both mixers. Input 1 accepts a balanced mic or line level source. Inputs 2 and 3 accept unbalanced mono or stereo line-level sources.
Input 1 is switch-selectable MIC or LINE. Phantom voltage (IEC standard 24 Vdc) is switch-selectable for the microphone input. The line input is transformer isolated and accepts balanced or unbalanced, high or low impedance audio sources.
A paging source is normally connected to Input 1. This input is equipped with push-to-talk terminals and with an adjustable threshold VOX circuit with LED threshold indicator, either (or both) of which may be set to duck ("fade down" or "mute") inputs 2 and/or 3 by 25 dB when a paging signal is active on Input 1. The attenuated inputs fade up to normal volume when the paging message is finished.
Inputs 2 and 3 each provide unbalanced stereo RCA input jacks, summed to mono.
The HD-MA35A is equipped with a master VCA for remote adjustment of the Zone 1 amplifier output. A detachable terminal block is provided for direct connection of an optional RDL remote level control.
A balanced line-level output is provided on a detachable terminal block to feed the inputs of other audio equipment or power amplifiers. Ground-referenced 24 Vdc power is available on a rear-panel terminal block to power an optional external RDL module which may be mounted on the panel space provided. External module type examples: audio filtering or processing, mixing, isolation, twisted-pair sender/receiver.
The Zone 1 amplifier includes an analog compressor/limiter for audio fidelity noticeably superior to conventional class D amplifiers with digital limiting. Increasing the input gain can substantially increase the average output power beyond that of a standard 35 W amplifier. A red front-panel LED flashes when the compressor is preventing output clipping. Normal audio level signals remain unaffected by the compressor thereby preserving audio dynamics. The audio is compressed according to three dynamic time constants providing aural transparency while maintaining clean, unclipped amplified audio for input overloads of up to 20 dB. The HD-MA35A, with compression, is capable of producing average audio output levels and clarity normally expected from amplifiers with a much higher output power rating.
A blue POWER LED illuminates when the HD-MA35A is powered from its external 24 Vdc power supply (included). The power LED is dim when the mixer amplifier is in the standby mode, and is bright when the amplifiers are fully active. A front-panel pushbutton is provided to manually switch between standby and active modes. The power amplifiers are equipped with both thermal and output short-circuit protection. The high-efficiency Class D output stage produces minimal heat for all levels of expected voice or music modulation.