---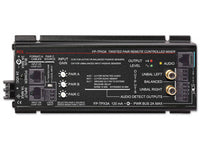 Sale
The FP-TPX3A is the ideal choice where a user-accessible mixer must control the volume of multiple sources in a zone. RDL Format-A twisted pair audio senders connect directly to the mixer, allowing each user input to be balanced or unbalanced, mic or line level. FP TPX3A outputs are provided in balanced and unbalanced formats. Two unbalanced outputs are available to feed the mono mixer output to a stereo amplifier input. Remote control of the mixer allows audio signals to be kept at a single equipment location. Audio is mixed by VCA circuits that are adjusted by control signals from the remote control.
Two Format-A jacks are provided for signal inputs. If the Format-A senders are daisy-chained, only one of the input jacks is used. Two jacks are provided so that two home runs from Format-A senders are possible. The FP-TPX3A provides power to all connected active senders. The FP-TPX3A is designed to mix the three Format-A audio signals from pairs A, B and C. A detachable terminal block allows a LOCAL INPUT to be connected directly to pair C. This input may be used if no connected sender is set to use pair C. The terminal block is included so a local paging or music source can be connected if pair C would not otherwise be used. Each INPUT GAIN control is calibrated to be adjusted clockwise for an unbalanced passive sender; counter-clockwise for an active sender or passive sender with a balanced input. A standard RDL dual-LED VU meter provides visual indication of the output level from the mixer. The mixer output is mono. The output is available on a single balanced detachable terminal block or on two unbalanced RCA jacks intended to connect directly to the stereo input of a power amplifier.
The AUDIO LED illuminates whenever audio is present at the output of the mixer, defined as greater than 35 dB below +4 dBu. This threshold triggers the AUDIO DETECT OUTPUTS. Two open collectors are provided on a detachable terminal block. One of these terminals switches low when audio is present, and may be used to switch amplifiers or other system components on. The other terminal is pulled low when audio is not present. It is intended for muting the digital carrier of power amplifiers equipped for remote muting. Either of these terminals may be used to trigger a variety of other RDL modules or OEM equipment. The use of these terminals to shut down unused equipment can produce effective system energy and cost savings. These control terminals normally remain triggered for 10 minutes after audio is absent. The delay can be increased to 20 minutes using a ground jumper on the terminal block.
The mixer levels are set by RDL remote controls that connect directly to the FP-TPX3A through an RJ45 jack using standard twisted pair cable. The control ports on the mixer and remote controls are color-coded light blue to distinguish them from standard Format-A jacks. The mixer provides power to the remote control. Either a two or three channel remote control may be used. If remote mixing of only two channels is needed, a two channel remote may be used. Pair C becomes the input channel that is not remotely controlled. The PAIR C/LOCAL INPUT can be left active at unity gain, typically for a paging source, or may be disabled by a switch set during installation. If the cable connected to the remote control becomes disconnected, the mixer output mutes.