---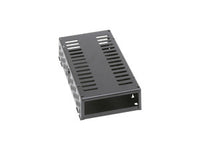 Sale
The FP-PSB1A mounts one desktop style power supply and it includes a provision to mount other modules. Any RDL FP‑PA20 type audio power amplifier can mount directly to the FP-PSB1A. RDL offers mounting brackets for mounting other RDL modules in place of the FP‑PA20.
The FP-PSB1A mounts to any flat surface or in an RDL FLAT-PAK series rack mount panel (FP‑RRA or FP‑RRAH). The design of the FP-PSB1A allows it to slide into the FLAT-PAK rack mount track. Mounting the FP‑PA20 power amplifier (or other RDL modules using available adapter) together with the power supply conserves rack space and produces a convenient and professional installation.
The FP-PSB1A is compatible with all RDL desktop power supplies and with any desktop power supply with maximum dimensions: 5.8", 14.7 cm x 3", 7.6 cm x 1.7", 4.3 cm.