---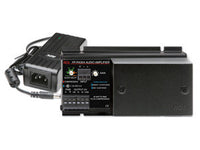 Sale
The FP-PA35A is the ideal choice in many applications where multiple 25 V, 70 V or 100 V speakers in a zone need to be powered from a single audio power amplifier.
The FP-PA35A features a balanced line level input that may be connected unbalanced. A front panel gain control is designed to be adjusted manually or with a trimming screwdriver. The gain range will accommodate standard unbalanced levels as well as professional balanced levels. Multiple distributed sound system speakers connect to the corresponding 25 V, 70 V or 100 V amplified output.
The FP-PA35A includes an analog compressor/limiter for audio fidelity audibly superior to conventional class D amplifiers with digital limiting. The input GAIN setting determines whether the limiter alone is used for clipping suppression, or if the full compressor/limiter will be used to substantially increase the average output power beyond that of a standard 35 W amplifier. A red COMPRESSION LED flashes when the limiter is preventing output clipping. Normal audio level signals remain unaffected by the compressor thereby preserving audio dynamics. If the input level is increased so that the compressor is active, the LED remains dimly lit between peak flashes. The audio is compressed according to three dynamic time constants providing aural transparency while maintaining clean, unclipped amplified audio for input overloads of up to 20 dB. The FP-PA35A, with compression, is capable of producing average audio output levels and clarity normally expected from amplifiers with a much higher output power rating.
The FP-PA35A circuits are all designed for low power consumption. In the absence of an audio input, a digital timer is enabled to switch the class D output stage off. When this sleep mode is active, the amplifier module and its included RDL power supply consume less than 1 W of mains power. A front-panel control sets the sleep mode delay timer to 5, 15 or 25 minutes. The control also permits the installer to bypass the sleep mode to conform to system specifications that require the amplifier to be active at all times. Upon detection of an input signal, the amplifier is nearly inaudibly and instantly restored to full operation within 150 milliseconds.
A blue POWER LED illuminates when the FP-PA35A is powered from its external 24 Vdc power supply. The power LED is dimly illuminated when the sleep mode disables the amplifier and glows brightly when the amplifier operation is fully enabled. The module is equipped with both thermal and output short-circuit protection. The high-efficiency Class D output stage produces minimal heat for all levels of expected voice or music modulation. Continuous full-power operation with audio tones will not damage the amplifier, but is not recommended.