---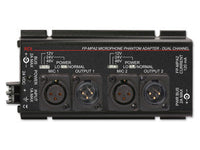 Sale
The FP-MPA2 is the ideal choice in any applications where phantom power needs to be provided to powered microphones.
Two identical circuits are provided, with connections through XLR jacks. The microphone is connected to the module through the female XLR jack. The selected phantom voltage is applied to this jack. The microphone signal output is available on a male XLR. Phantom is blocked from this output jack. The phantom voltage is individually selectable for each input. A three position switch is provided for choosing 12 Vdc, 24 Vdc or 48 Vdc. Some microphones operating on 24 Vdc phantom perform optimally with higher value buildout resistances. For these particular 24 Vdc powered microphones, a second switch is provided to select the optimum current. The appropriate voltages are generated through a low-noise dc-dc converter and regulator circuits. Each phantom output is short-circuit protected.
The FP-MPA2's low profile and compact size permit mounting in confined spaces and in various locations in equipment racks. The location of the input/output jacks permits high-density mounting against flat surfaces while maintaining accessibility to the connectors. Installations requiring multiple FP-MPA2s are ideally designed using FP-MPA2s affixed to rack sides, or by mounting them to either the front or rear rack rails using the RDL FP-RRA.