---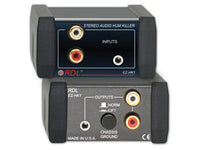 Sale
The EZ‑HK1 is a superior-quality stereo audio transformer isolation module for use with unbalanced, high impedance audio inputs. Input and output connections are provided on gold-plated RCA jacks.
The shield connection of each INPUT jack is electrically isolated from the case and from the output ground. The shield connection of each OUTPUT jack is connected to the case shield through a rear-panel ground-lift switch.
The EZ-HK1 eliminates hum due to ground loops when it is installed between an unbalanced audio source, such as a computer, CD player, cassette player or other consumer audio product, and the input of a grounded amplifier in an audio system.