---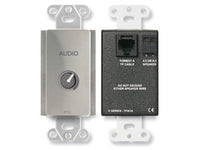 Sale
The -TPA1A modules are two pair audio amplifier modules compatible with RDL Format A twisted pair products. Each -TPA1A receives stereo audio and 24 Vdc power through a rear-panel RJ45 jack. The left and right audio signals received on pairs B and C of the twisted pair cable are summed to mono and amplified. The amplified output level is set by an internal VCA which is controlled by a front-panel volume control. The VCA attenuator provides years of scratch-free gain adjustment.
The -TPA1A circuits are all designed for low power consumption. Amplification is provided by a high-efficiency Class D power stage with audio filtering tailored for crisp, pleasant audio clarity. The high-efficiency Class D output stage produces negligible heat for all levels of expected voice or music modulation. When the user reduces the audio level to minimum, the class D output stage is switched off. This sleep mode remains active until the user turns up the output level.
The output drives either a 4 Ohm or 8 Ohm speaker. The speaker cable connects to the module using a detachable terminal block.
The front panel does not include any illuminated indicators, making the -TPA1A ideally suited to installation in dark rooms or areas. Installation is simple and quick, requiring only the connection of the speaker leads and the twisted pair RJ45.
The -TPA1A may be fed and powered from any RDL Format-A sender, and is ideal in hospitality installations fed from a sender connected to a TV monitor (for example: FP-TPS4A Audio Sender from TV with fixed audio output level).
Use the -TPA1A wherever a single speaker user-adjustable wall mounted amplifier is needed. Combine the amplifier with other RDL Format-A products for a cost-effective, high-performance audio system.