---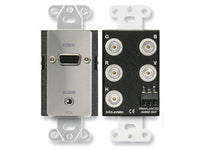 Sale
The D/S-AVMB2 is the ideal choice in installations requiring a wall-mounted audio and video monitor input or output plate for computers, monitors and projectors. The panel is typically installed as an audio/video input plate, but may equally be used as an output jack panel.
The front panel features a standard video monitor connector. Video components, video sync and their respective ground returns are separated to feed five BNC jacks on the rear panel. The BNC jacks are isolated from the module chassis ground so the appropriate signal grounds pass through without adding a video ground loop at the panel.
The front panel features a single stereo mini-jack, intended for stereo consumer line-level audio sources. The left and right signal inputs are fed to a rear-panel detachable terminal block. The audio signals are unbalanced and are intended for short wiring runs where balanced lines are not required.