---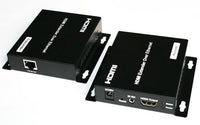 Sale
The VF-HDMI-EoIP allows you to simultaneously send out a HDMI® signal to one or more HDMI® displays over a standard Ethernet Network. Whether you require point to pint transition or one point to many, The VF-HDMI-EoIP's flexibility, scope and scalability is a simple and cost effective high definition solution to distribute HD digital content from multiple sources to practically any number of remote displays on a LAN. Sources can be rack centralized, decentralized or even a mixture of both.
Features:
1). Compliant HDCP 1.2.
2). Uses off-the-shelf gigabit IP switches for extension and distribution.
3). Extends 1080p HDMI signals up to 120m over a single UTP Cat5e/6 cable.
4). Flexible and scalable HDMI 1080p Video Wall Broadcasting with Gigabit Ethernet LAN.
5). Multicasting and broadcasting architecture, adding more displays without adding LAN bandwidth loading .
6). Support Point-to-Point, Point-to-Many and Many-to-Many network configuration.
7). With IR Control function ,it allows you control back the source at the end of destination.
8). Maximum 3 layers of ethernet switches could be passed through.
HDMI input

Power Indicator

Power supply input

VGA input

Stereo Audio output