---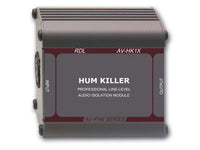 Sale
The AV-HK1X is a mono transformer isolation module for use with a balanced, low impedance source and either a low or high impedance load. Input and output connections are provided on XLR jacks with gold-plated contacts.
The shield (pin 1) connection of the INPUT jack is electrically isolated from the case and from the output ground (pin 1) at audio frequencies. The ground (pin 1) connection of the OUTPUT jack is connected to the case shield. The user audio source, such as a mixer, preamplifier or other professional audio product, connects to the AV-HK1X input. The module output should be connected to the input of the grounded amplifier or mixer in the audio system.
Galvanic isolation between the input and output is provided by a studio quality audio transformer. The AV-HK1X breaks the "ground loop" connection that can produce hum in a sound system. The input connector shield does provide a radio frequency ground return, thereby preserving system immunity to radio interference.
The AV-HK1X is a rugged product designed for portable use. For fixed installations, a mounting bracket is included.