---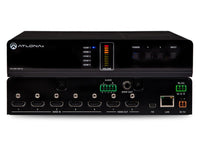 Sale
The Atlona AT-UHD-SW-52 is a 5×1 HDMI switcher with dual HDMI outputs, balanced audio outputs, auto-switching and advanced control capability. The switcher supports 4K/UHD @ 60 Hz with 4:2:0 color, offers 3D pass-through, and 10.2 Gbps bandwidth. With front panel buttons and IR control, it can be a standalone switcher. Designed as a cost-effective, easy to install solution, the switcher offers a web-based GUI for easy set-up and management of EDID and HDCP. Additional control options include auto-switching, front panel selector, and compatibility with RS-232, or TCP/IP-based control systems. Audio features include de-embedding of PCM audio over HDMI to either S/PDIF or two-channel analog audio outputs; pass-through of Dolby TrueHD® and DTS-HD Master Audio™; plus an Audio Return Channel feed to the S/PDIF output from the HDMI display. The compact, 1U, half-rack width enclosure is easily installed in rack mounted systems with the included 19" rack mount brackets. Two units can be mounted side-by-side.
Features
Mirrored, dual HDMI outputs
Supports dual room display environments or primary room display and presenter's confidence monitor
Eliminates cost associated with extra gear; simplifies installation
4K/UHD capability
Compatible with Ultra High Definition PCs and other sources and displays
Supports high resolution applications such as CAD, desktop publishing, and detailed finance reporting
Supports up to HDCP 1.4 (Does not support HDCP 2.2 devices)
Auto-switching
Reduces complexity or eliminates control system completely
Simplifies user operation
TCP/IP, RS-232, and IR control
Flexible control options compatible with 3rd-party control systems
Reduces integration time and costs
EDID management
Manages EDID communications between source and display; allows integrators to force sources to preferred resolution
Ensures desired audio formats and video resolutions are provided to the AV system; eliminates the need for EDID management device
HDCP management
Allows non-protected material from PCs to pass to non-compliant displays and teleconference systems while protected content is not transmitted
HDCP compliance can be switched on/off from control systems for use with non-compliant displays, streaming devices, and codecs
Easy, GUI-based configuration using integrated web server
Offers menu-based configuration of network settings, RS-232 settings, input switching, EDID, and HDCP management and audio
Allows fast configuration of internal product settings and troubleshooting from a tablet, smart phone, or PC in the field
Volume controls
Volume Up and Volume Down button adjust output level to sound system
Provides quick level adjustment
Volume indicator
Displays volume level of the switcher
Provides quick indication of level during setup
Balanced, line level output
Reduces noise and requirement for external components
Matches requirements of commercial sound systems
Multi-channel audio compliant
Supports PCM, Dolby

®

Digital, Dolby Digital Plus™, Dolby TrueHD, Dolby Atmos

®

, DTS Digital Surround™, and DTS-HD Master Audio™
Allows any multi-channel audio stream to be used within a professional audio system
Rack-mountable, 1U, half rack width enclosure
Installs easily in rack-mounted systems with optional 19" rack-mount brackets
Simplifies installations; allows two units to be mounted together
Included accessories
User guide, desktop power supply, detachable power cable, IR hand held remote control, rack mount bracket kit
Award-winning 10 year limited product warranty
Ensures long-term product reliability and performance in residential and commercial systems
Specify, purchase, and install with confidence
4K/UHD 5×1 Switcher with Dual Outputs
The AT-UHD-SW 52 adds 4K/UHD performance and installation flexibility to Atlona's HDMI small switcher family to meet the needs of professional integration applications. Dual HDMI outputs, balanced audio output, EQ, and volume control add to the AT-UHD-SW-52's long list of features. Incorporating internal video distribution eliminates the need for an external DA to reduce system complexity to save integrators time and money.
The AT-UHD-SW-52 is ideal for use in applications where:
Two displays are needed to cover presentations in large rooms or where a confidence monitor is needed at the presenter's podium along with the primary room display.
Installers need an easy-to-integrate, five-input HDMI switcher with 4K/UHD capability to support multiple sources and mirrored displays to work with any control system.