---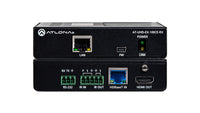 Sale
The Atlona AT-UHD-EX-100CE-RX is an HDBaseT™ receiver for AV signals up to 328 feet (100 meters) over category cable with Ethernet pass through, RS-232 and IR control, plus Power over Ethernet. It is compatible with signals up to 4K/UHD @ 60Hz with embedded multi-channel audio and remote 48V power for the receiver. The receiver works with the PRO3-UHD Matrix Switcher Series* to provide RS-232, and 12 volt-based IR control commands. The AT-UHD-EX-100CE-RX is HDCP 2.2 compliant and supports EDID communication. The receiver features a quarter rack width metal enclosures for installation with rear panel I/O ports for uncluttered wire management.  Use with an optional AT-IR-CS-RX IR receiver cable to capture IR remote commands for AV system control.
Features
4K/UHD capability
Compatible with Ultra High Definition sources and displays
Future proofs AV systems in preparation for technology improvements, 4K/UHD streaming services and playback devices
HDCP 2.2 compliant
Adheres to latest specification for High-bandwidth Content Protection
Allows protected content stream to pass between devices
Remote-powered receiver
Industry standard IEEE 802.3af PoE for receiver is supplied by transmitter over HDBaseT
Saves time and integration costs
AV, Ethernet, power, and control over HDBaseT*
Receives 4K/UHD video, audio, 100Base-T Ethernet, power, and control through a single cable
Eliminates multiple cable runs between source, control system, router, and display
*Ethernet pass-through is not available on the AT-UHD-EX-100CE-RX receiver when used with the UHD-PRO3 Series matrix switchers.
Extended distance HDMI extension
Receives HDMI signals up to 328 ft (100m) @ 1080P with CAT5e/6 or 4K/UHD using CAT6a/7 cable
Uses easy-to-integrate category cable for low-cost, reliable system installation
Flexible Bidirectional IR control capabilities
IR Input designed to work with 12V IR receivers for source control
Saves control systems costs
Rear panel I/O connectors
Placement of ports on rear panel simplifies wire management
Saves installation time and eliminates clutter
Multi-channel audio compliant
Supports PCM, Dolby

®

Digital, Dolby Digital Plus™, Dolby TrueHD, Dolby Atmos

®

, DTS Digital Surround™, and DTS-HD Master Audio™
Allows any multi-channel audio stream to be used within a professional audio system
Field updatable firmware
Front panel USB port provides an easy means for kit upgrades
Ensures long term system return on investment
Front panel Power and Link status LEDs
LED indicators provide power and HDBaseT link status information
Provides easy setup and troubleshooting
Low-profile, 1 inch (25 mm) high quarter rack-width enclosure
Easy installation into confined spaces behind displays and above projectors
Keeps devices out-of-sight when placed in public spaces
 Included accessories
User guide, IR emitter P/N AT-IR-CS-TX, mounting brackets
Award-winning 10 year limited product warranty
Ensures long-term product reliability and performance in residential and commercial systems
Specify, purchase, and install with confidence
4K/UHD Receiver with Ethernet, Control and PoE
The AT-UHD-EX-100CE-RX is designed to be used with Atlona products with built-in HDBaseT transmission such as the AT-UHD-CLSO-601, UHD-PRO3 matrix switcher series, and the AT-UHD-SW-52ED switcher. It uniquely designed to take advantage of these products' built in HDBaseT transmission of AV, remote power, and control signals.
This receiver is used in commercial and applications that call for an HDBaseT receiver with a compact form factor that allows for simple mounting behind displays and at projectors. These applications will not require an AC outlet for the receiver, since the receiver is powered by the Atlona switching product. This receiver will also be used to simplify control of the AV system by working with 12 volt-based IR receivers as well as passing through Ethernet and RS-232 commands.