---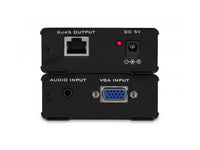 Sale
Atlona VGA with Stereo Audio Extender Kit over Single CAT5/6/7 with DDC Support
The Atlona AT-RGB45SR (transmitter and Receiver) Extender units with stereo Audio allow users to extend Video signal with resolutions VGA~WUXGA (640×480~1920×1200) up to 150ft (45m). The RGB45SR is designed to extender both audio and video on a single low cost CAT5, 6 or 7 Cable. The extenders are featured with DDC (EDID) support, which is needed for video cards to know what the display capabilities are. The AT-RGB45SR extenders transfer signal in real time with less than 2ms of delay.
The AT-RGB45SR is capable of sending Component Video signal via VGA/Component adapters.
Note: OPTIONALPOWER OVER USB SOLUTION NOW AVAILABLE FOR THIS ITEM!! AT-PWUSB
Applications:
Office Workstation: PC to Monitor Extension allows extending video and audio up to 150ft away from
the workstation.
Conference Room or Boardroom: PC to Projector Extension allows extending video signal over long
distance utilizing existing CAT5, 6 or 7 cables. This solution is perfect for Schools and Universities.
Computer/Monitor Testing: Since the AT-RGB45SR are capable of supporting DDC (EDID), it would
make it easy for QA department to test Displays/computers which are further away from the testing
area.
Airport/Train Station: The RGB45SR's are based on low power chip-set which is designed to work for
many years without a need to reboot/reset.
Transmits real time Video and Audio up to 150ft
Supports extremely high resolutions up to WUXGA (1920×1200)
Supports DDC (EDID), allows video card to know what the display capabilities are.
Based on the low power chip-set, therefore can last many years without reboot/reset
Designed to transmit both Video and Audio on low cost CAT5/6/7 Cable
Support Hot Plug Detect