---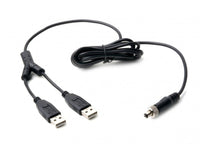 Sale
Atlona USB to 5V DC Power Cable
The Atlona 6ft USB to 5V DC power cable is capable of powering many of the Atlona devices which are based on the 5V DC circuit. This cable is perfect for users who do not have an electrical power outlet next to the switch or extender; however do have a cable box with USB interface, computer with USB interface or even a USB hub.
The Cable has 2 USB's on one side and 1 DC power jack on another. If the equipment device is capable of working on 2.5watts and below, the single USB will be ok; however if 2.6watts to 5watts, than 2 USB's are required.
If one of the Atlona products is compatible with the this cable it would be stated on that product page.