---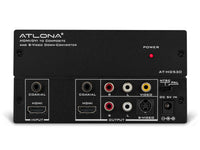 Sale
Atlona HDMI/DVI to Composite and S-Video Down-Converter
The Atlona AT-HD530 is designed to down-convert HDMI or DVI digital signal from PC, Mac, Camcorder or Video Game to Analog S-Video or Composite Video with Audio. The AT-HD530 is featured with HDMI/DVI loop-out.
Note: AT-HD530 is NOT-HDCP compatible. Will not work with HDCP Devices such as Cable/Sat Boxes and DVD players
Note: This product is not compatible with 24Hz or 30Hz devices.
Features:
Automatically detects and down converts the incoming PC or HDTV resolution to NTSC or PAL formats
Supports high resolution HDTV input up to 1080p and PC input up to UXGA (1600×1200@60Hz).
Output video format is selectable between Composite Video and S-Video
When the signal from HDMI or DVI source is HDCP, the Composite and S-Video outputs would be disabled